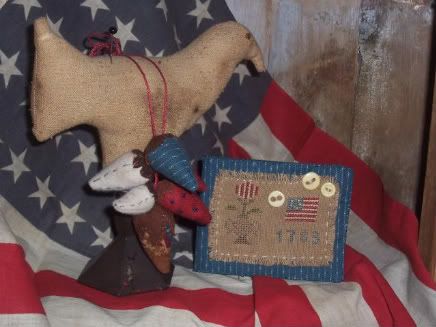 This month, the BLESTB group on Ebay, are having a Patriotic Pincushion offering. I am proud to be able to participate in an event with these wonderfully talented folk artists. Please type BLESTB into the search bar to view their offerings. You will not be dissappointed!
Finally, I finished my pinkeep to list on Ebay this evening. It is a sweet little needle book, inspired by Blackbird Designs. It is made of reproduction farmhouse blue, Civil War era fabric lightly stained with tea. Just enough to age it just a bit. I cross stitched the front on prairie cloth.
The six little strawberry pinkeeps are made of wool and reproduction fabric as well. I stuffed them with walnut shells, strung them on some vintage, red floss and then again aged lightly with tea. I love these little strawberries...there's just something about them that are so charming.